Ingredient Innovation: Key Drivers in Food Innovation & Renovation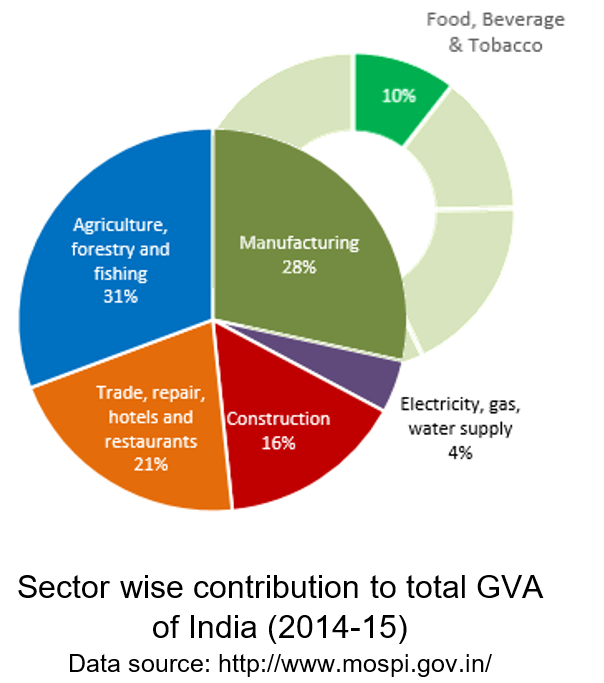 The food processing industry is one of the fastest growing and an important contributor to Indian economy. It is one of the largest industries in India and ranks fifth in terms of production, consumption and exports. The contribution of food processing industry to GDP has been growing faster when compared with the agriculture and allied sector. As per livemint.com, India's food and beverages (F&B) industry will expand at an average annual pace of 24% to reach Rs.3.8 trillion by 2017. As per Ministry for Statistics and Programme Implementation, Food, Beverage & Tobacco industry contributed 2.8% of total GVP of India in 2014-15.
Kaleidoscopic view of F&B Industry
Food is combination of well balanced and rightly chosen ingredients. Ingredients can be either major or minor. Many a times, ingredients of two products are same but the right balance of these in the recipe makes one taste superior to another. While choice of novel ingredients is the bedrock of many innovations, then choice of right ingredients aids in renovation. The author is of the view that ingredient innovation is the epicenter of any innovation or renovation in the processed food industry.
If the whooping figure of about 47K new product launches since 2012, only in India, is anything to go by, one can understand the scale of innovation and renovation in food and beverages industry. These launches include new variety/range extensions, new formulations and new product development across segments ranging from dry mix to frozen products to savory & snacks to alcoholic beverages. The following graph illustrates the top ten launches since 2012.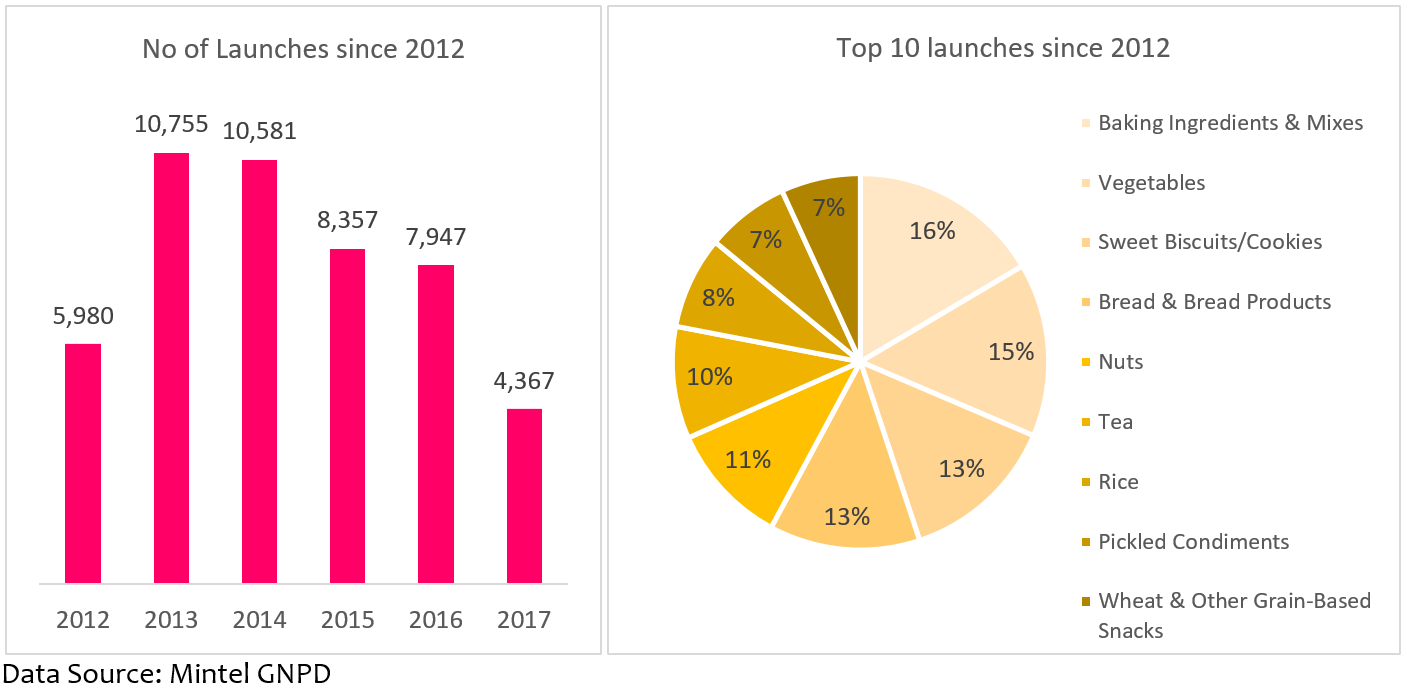 Innovation trends and opportunities
In the past few years a definitive pattern in food innovation is unfolding itself. Few common claims / innovation trends across various categories are captured in table.
Table: Claims in new product launched in different sectors in last couple of years.

From the data it can be inferred that any innovation or renovation across segments has been made possible by innovation in ingredients. For instance, considering branding under health claims vertical demands innovation in both major and minor ingredients. Be it bulk ingredients in case of multigrain flour in digestive biscuits or oats in breakfast cereals and minor ingredients like vitamins and minerals in milk fortification calls for innovation.
It is interesting to note that while a few trends might threaten a few ingredient businesses, they open a sea of opportunities for others. For instance, increase clamor for "No Preservatives or 100% Natural" may hurt the preservative and additive industry in long run, but will open new horizons for industries producing natural ingredients. Natural ingredients are components of second choice, owing to their high cost, but increase in consumer demand will help them to achieve the economies of scale and overcome the price hurdles. Nevertheless, the way Indian processed food industry is progressing and the Indian consumer's buying behavior is changing, there is a definitive business opportunity for everyone in the marketplace. One just needs to be flexible and innovative enough to adapt and promptly respond to changing market dynamics.
Ingredient innovation for renovation
With rising ingredient costs and strain on gross margins, recipe cost optimization is at the heart of food & beverages industry. Consequently, innovation in ingredients should not only include novelty like exotic flavors, but also include technology to optimize the cost. New product or line extension helps in top line growth of a business while bottom line growth is supported by recipe re-engineering and/or process optimization. Recipe re-engineering is majorly dependent on right choice of ingredients and, to be precise, the right choice of alternative and cost effective ingredients. One should be mindful of that fact that cost effectiveness should not be equated to replacement with low quality ingredient or sub-standard ingredients. Reducing amount of costlier ingredients to its optimum level without impacting its functional and sensorial characteristics and balancing it with economic choice of alternative should be basic essence of recipe-reengineering.
Conclusion
The way Indians shop today is entirely different from what it was. Food innovation and ingredient innovation must go hand-in-hand. They are expected to be ready with a vision and proper anticipation of consumer demand in future. Novelty in innovations as well as innovations in recipe re-engineering is the new mantra for holistic growth and sustainability in processed food world. Only then can our products find a way into a consumer's shopping bag!
Featured pic source: Background photo created by freepik – www.freepik.com