Have you heard of Potato Milk? If not, then you're in the right place. It's safe to say that by this point, everyone has heard of the different plant-based milk options available today. Typically, nuts, seeds, or legumes are often used to make dairy-free milk alternatives. 
We can find all from hazelnut, sesame, walnuts, cashews, almonds, rice, flax, oats, or coconuts to soya, pea milk, and more in the stores near to us. It's no surprise that new alternative milk is hitting the shelves. Potato milk is a new plant-based milk option that, in contrast to all conventional plant milk ingredients, has its own advantages and is more environmentally friendly than its competitors.
A recent startup Dug has created the world's first potato milk.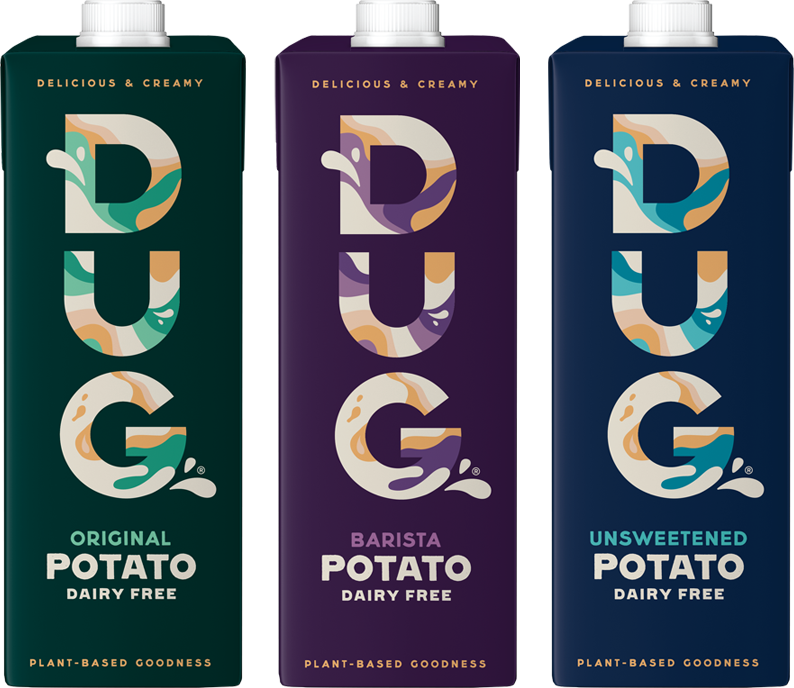 Why is Potato Milk a New Fad in 2022?
The emergence of a new eating trend known as "climatarianism" places an emphasis on reducing an individual's carbon footprint. Potato milk is becoming the top trending item in 2022 as a result of the movement to lower each person's carbon footprint through nutrition.
In Food and Drink report 2022, a British supermarket chain predicted that potato milk will be the top dairy alternative milk trend of this year. This supermarket chain is so certain of its forecast as potato milk has arrived on the market in February 2022, in an effort to satisfy consumer demands.
What exactly is Potato Milk?
To put it simply, potato milk is milk prepared from potatoes. When compared to other types of milk, it has a mild taste and a white, creamy, and milky texture. It is presently available in a relative handful of European and U.K countries. Professor Eva Tornberg's study at Lund University served as the foundation for Veg of Lund, a food innovator, to create DUG. Currently the sole company in this niche, DUG offers three flavors-
1. Original for your breakfast- 9% potatoes and 3% fat
2. Barista for your coffee- 6% potatoes and 1.5% fat content
3. Unsweetened if you do not like sugar- 9% potato content and 3% fat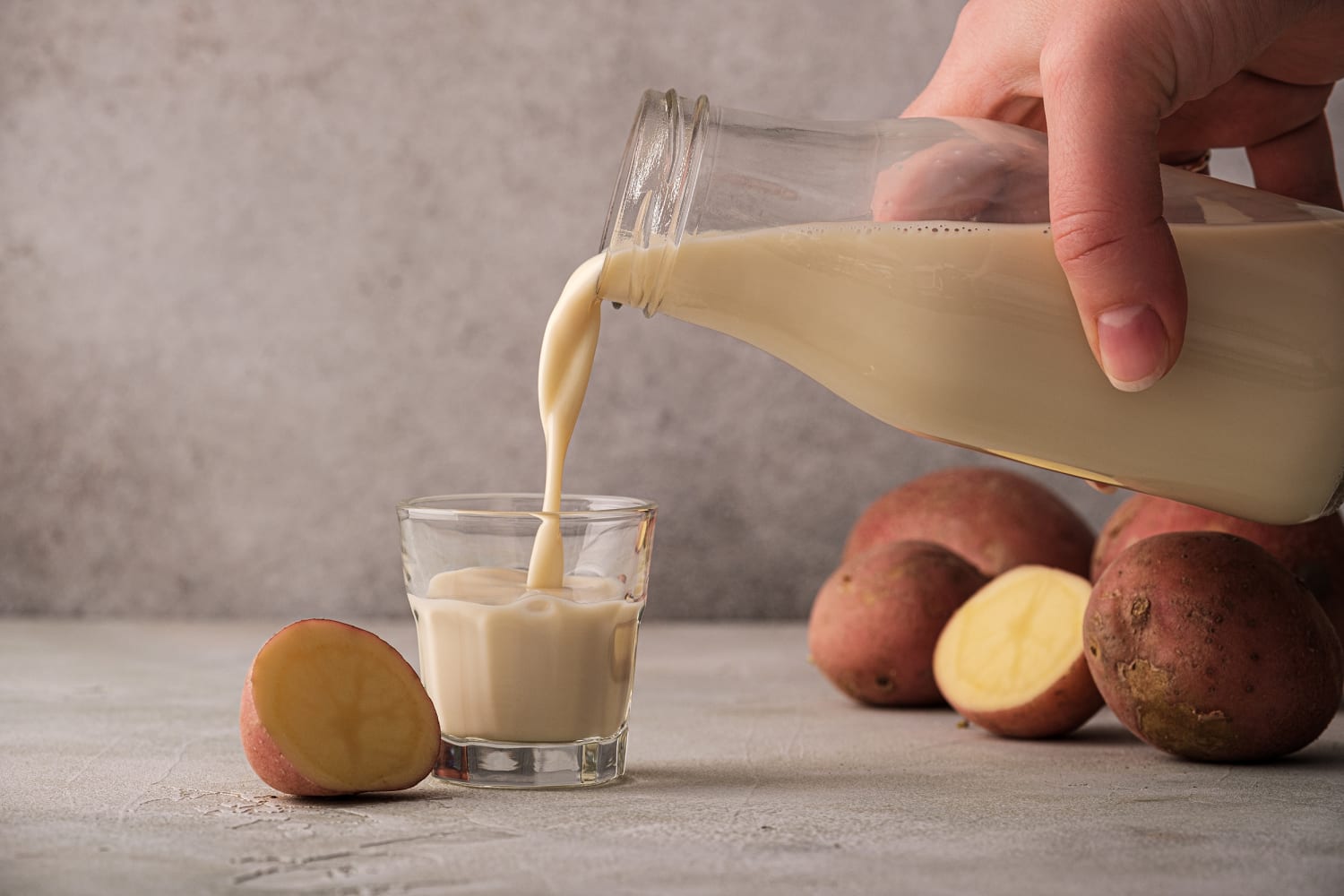 The Swedish company DUG for its potato drink products won the "2021 World Food Innovation Awards. DUG's potato-based drink was also named "Best Allergy-Friendly Product". According to the DUG, their potato milk is an emulsion of potatoes and rapeseed oil that holds the milk together and creates a creamy drink that will not separate. This milk has become the newest fad thanks to her discovery.
Nutritional and Ingredient Profile of Potato Milk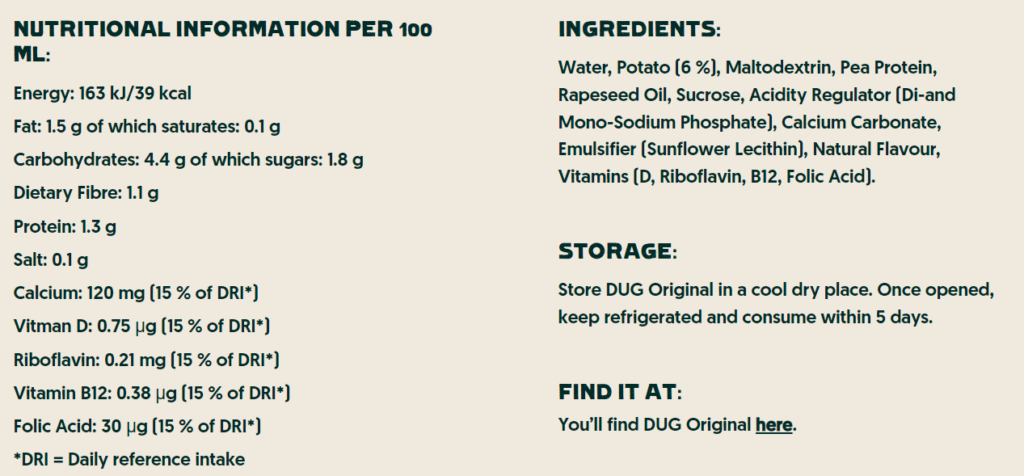 Potato milk has few calories and contains a fair amount of calcium, vitamin D, vitamin B12, riboflavin, and folic acid.
Is Potato Milk Healthy for You?
Potatoes are a filling vegetable. Unless you consume them in excess, they are not harmful. Because potatoes have a lower glycaemic load (GL), they are more effective at providing carbs. Additionally, they offer a number of nutrients.
The company claims that potatoes provide a significant amount of antioxidants in addition to protein, vitamins, minerals, fiber, and carbs. In terms of micronutrients, a half-cup (100ml) of Dug provides 15% of our daily calcium, vitamin D, riboflavin, and folic acid requirements. Both the barista and unsweetened varieties have a slightly higher fat content, with the unsweetened having less added sugar and thus fewer carbs.
The DUGs specified on the ingredient label: Water, Potato (6%), Maltodextrin, Pea Protein, Chicory (Vegetable) Fiber, Rapeseed Oil, Fructose, Sucrose (sugars), Acidity Regulator (Di-and Mono-Sodium Phosphate), Calcium Carbonate, Sunflower Lecithin (Emulsifier), Natural Flavor, Vitamins (D, Riboflavin, B12, Folic Acid).
Some of the ingredients listed here are food additives that do not provide the same benefits as naturally obtaining fiber and vitamins. Plus, highly processed ingredients like maltodextrin and di- and mono-sodium phosphate may be irritating to sensitive stomachs, among other health consequences. Another stumbling block is the less protein content as compared to other sources and also the product not being readily accessible.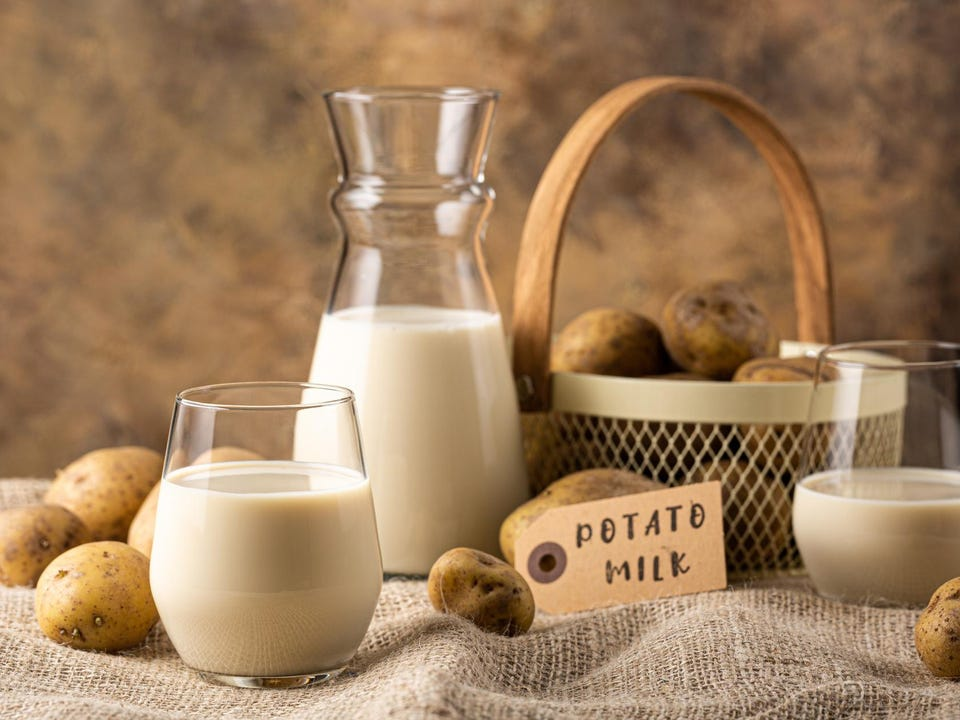 Health Benefits of Potato Milk
1. Rich in Vital Vitamins and Minerals: Commercial potato milk products provide elevated levels of vitamins such as Vitamin A, B12, C, Vitamin D, E, and Vitamin K. Calcium and iron are minerals found in moderate amounts in potato milk.
2. Good for people with allergies: This vegan milk is free of lactose, soy, milk, gluten, and nuts, making it a great choice for those who have a variety of food intolerances and allergies.
3. Helpful for children with Autism: Particularly for people with food allergies or intolerances and autistic kids. This is due to the absence of dairy, fat, gluten, casein, cholesterol, and soy in potato milk.
4. Good for the heart : Potato milk has heart-healthy monounsaturated fats in significant amounts. In addition, they have less saturated fat than cow's milk, which is regarded as being less beneficial for our hearts.
5. Other health advantages: Since potatoes promote better sleep, potato milk might help improve sleep quality.
---
A sustainable solution: How Does Potato Milk Help the Planet?
The Food and Agriculture Organization of the United Nations has recognized the humble potato as a staple and sustainable food to support the world's expanding population.
Potato milk seems to be slightly better than the other milk substitutes on the market. Compare to soybeans, oats, hemp, almonds, and potatoes are more sustainable.
When compared to cultivating oats, potatoes are more land-efficient (requiring only half the space), easier to cultivate, and can be produced practically anywhere. They also use less water—56 times less water than almonds. And the carbon footprint is 75% smaller than dairy milk.

---
Are you Ready for a Sip of Potato Milk?
1. Like other plant-based milk, you can use it with cereal for breakfast.
2. For coffee and tea, pour hot or cold potato milk.
3. Best used when used in cold recipes like granola, making chia pudding, or in a vegan milkshake.
4. After a soup has been cooked, you can use it to give it creaminess.
5. Potato milk can be stored in the refrigerator for up to 3-5 days in an airtight container.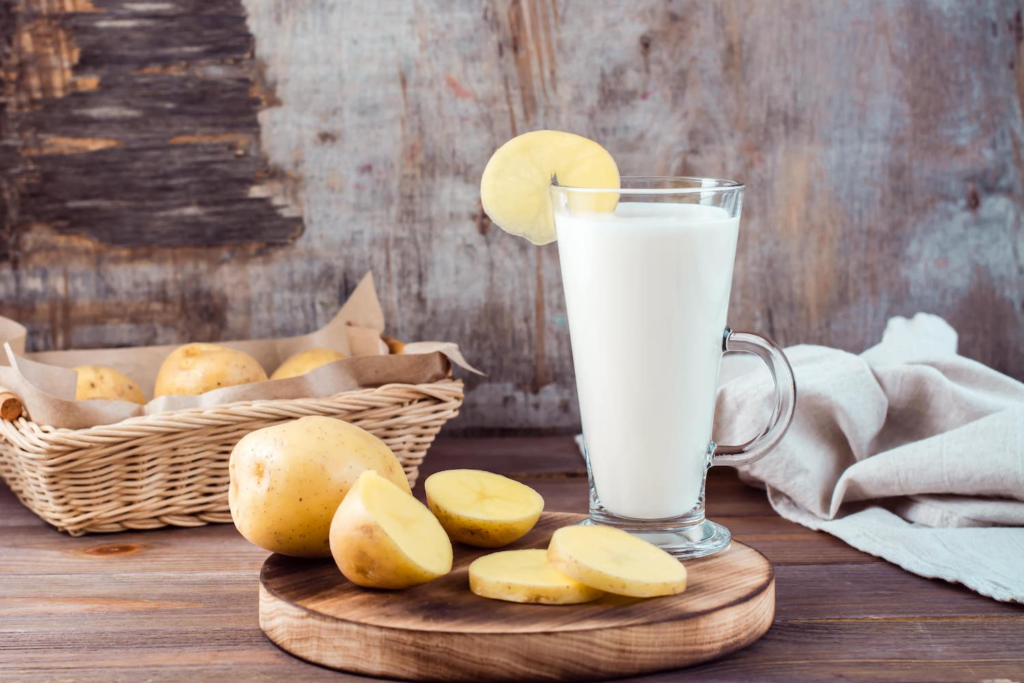 ---
Impending Innovations
Potato milk is available in powder form as well. All you have to do is thoroughly stir the powder after adding water to it in accordance with the directions on the package. After that, you can either mix it with your coffee or cereal or simply drink it straight up.
The humble potato has undergone a little public relations makeover in recent months. A number of other businesses are also exploring the potential of the crop, so Dug is not the first startup that's has given potatoes the spotlight.
A British produce supplier Branston is working on a brand-new factory to transform potatoes into protein. This potato-based plant protein can be used to formulate new vegan meat and dairy products.
Dutch company Avebe is also making potato protein, called Solanic, for use in the vegan and vegetarian food industries.
In India, potato milk is still not commercially available, but you can prepare your own milk at home. The nutritional value of homemade potato milk will depend on the flavorings added, like any sugars. Try making your own potato milk at home if you're interested; the instructions are really simple and are readily available online Potato Milk Recipe and prepare all sorts of drinks and dishes.
---
References-
Ewing-Chow, D. (n.d.). Potato Milk Could Be This Year's Alternative Protein Trend. [online] Forbes. Available at: https://www.forbes.com/sites/daphneewingchow/2022/01/31/potato-milk-could-just-be-a-winner/?sh=42965a3b14bf
Prevention. (2022). What Is Potato Milk and Is It Healthy? Nutritionists Weigh In on the Trendy Milk Alternative. [online] Available at: https://www.prevention.com/food-nutrition/a39004303/what-is-potato-milk/
Cook Gem. (2021). Potato Milk: Everything You Need To Know. [online] Available at: https://cookgem.com/all-about-potato-milk/
ePainAssist, T. (2022). 5 Amazing Health Benefits of Potato Milk. [online] Epainassist. Available at: https://www.epainassist.com/diet-and-nutrition/amazing-health-benefits-of-potato-milk
The Spruce Eats. (n.d.). Try the Latest Non-Dairy Milk at Home: Potato Milk. [online] Available at: https://www.thespruceeats.com/potato-milk-5218684
---