"Food Technologist", as a profession has been an attractive non-conventional career path. With the increase in demand for this course, there has been substantial increase in number of institutes providing degrees in different formats. Unfortunately, most of these institutes could not create an ecosystem where job seekers and job providers come together and complete the cycle of demand and supply. To simplify this – there was increase in demand for food technology courses, but the increase in demand for food technologists lagged behind the number of food technologists graduating from expanding colleges. This not only led to fierce competition, but also lots of confusion in among fresh graduates. I feel fortunate that many young professionals consider me their mentor and come with their doubts to get solution. This helped me in understanding current scenario. Many times I resolve their issues, many time I fail. Being a science graduate, I don't want to give any opinion based on one or two observations and improper analysis of situation. During this long journey of interaction with the students, I noticed that fresh graduates have a set of similar confusion regarding job search and career progression in food industry and this is not different from what I had after graduation
So, I thought to resolve some of these confusions of young professionals by understanding the career path of experienced food professionals. I am really thankful to all participants of this survey and sharing their experience which might help young professionals in making right choice for their career.

Basic statistics of participants of survey
This survey was done online among food professionals across India during 2nd week of August 2017. Total 569 professionals shared their feedback during this survey. One interesting observation came during this survey. The distribution of responses remained almost constant after 200 responses. This gives me confidence to say that this data distribution might be representative of food professionals of India. Same report was shared in September 2017 in other blogs. Just thought to bring everything on same platform.

---
Dilemma No 1 – How to search job?
During most of my lectures and interaction with fresh graduates, I cannot answer confidently to following statement.
"Everyone wants experienced professionals, but no one is ready to give experience"

anonymous fresh graduate
I am fortunate that I got my first job through campus selection, so it will be injustice if I say I can feel the pain and struggle of graduate searching for job. Based on observations and interaction I can understand their struggle and can suggest some of the routes for searching jobs. In search of answer for this biggest dilemma of a fresh graduates, I conducted this survey specially to find answer from those professionals who have got job off-campus and are well settled in their career.
In this survey, about 71% professionals got their job off campus. I had a basic idea about way of searching job, but this survey helped me to substantiate my theory and also opened few more avenues for searching job. The career circle shown in following graph shows the major route by which a fresh graduate can search job.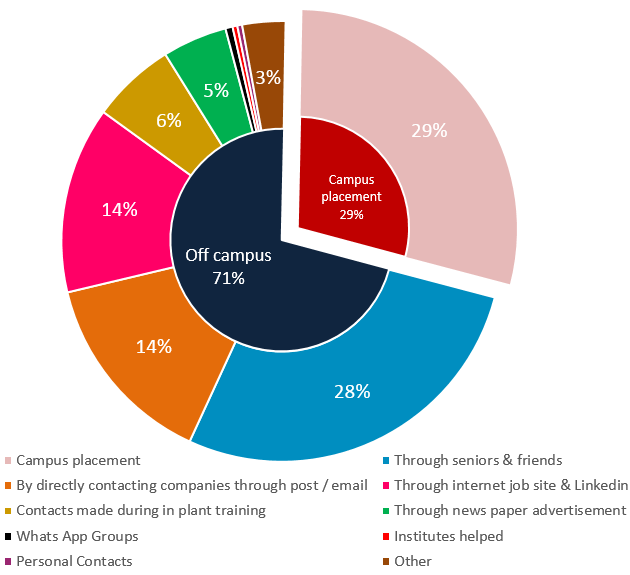 Some important highlights
Till now, I was of the opinion that sending CV to companies, or directly contacting them, is not an effective method of job search. But to my pleasant surprise this method has proved to be 2nd largest method by which professionals got their first job
Going by technologies and keeping updated in social networks – Linked In, Facebook and Whats App groups are also an important source of job hunt.
I have always given emphasis on making contacts and building networks during college life and during in-plant training. Gaining knowledge is important but building healthy relationships and leaving an impression behind is equally important. This has been substantiated by the fact that about 50% got their first job due to their personal relations made either with seniors or with mentors during in-plant training.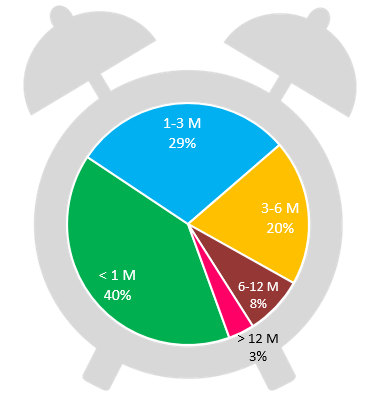 Time taken (in month) by a fresh graduate to get his/her first off campus job
Your talent will not go in vain. Its just matter of persistence and perseverance. One should not get dishearten and keep trying. Even the surveys says that about 90% got their job within 6 months after graduation.
---
Dilemma No 2: Which department or company or job profile would be better for career growth?
My immediate response to this query is "the department which you get in offer". Yes, you might not be interested in particular field but still you should accept whatever you get. Later on based on your interest and performance you can choose your career path. In this fierce competitive world "fresher should not be chooser". This choice is not only about job profile but also location or salary. If you are not getting job near your home town, then this is not fault in this degree. Remember, sitting at home and searching better job will never be counted as experience and while counting year of experience location and salary is not accounted. In previous data, many among those 10% who got job after 6 months of graduation are those who were choosy about location and job profile. In my career of 10 yrs I have smoothly moved from one department to another and have worked in manufacturing, quality and R&D.

About 50% have worked in Indian companies, 25% in MNC and 25% in both MNC and Indian company.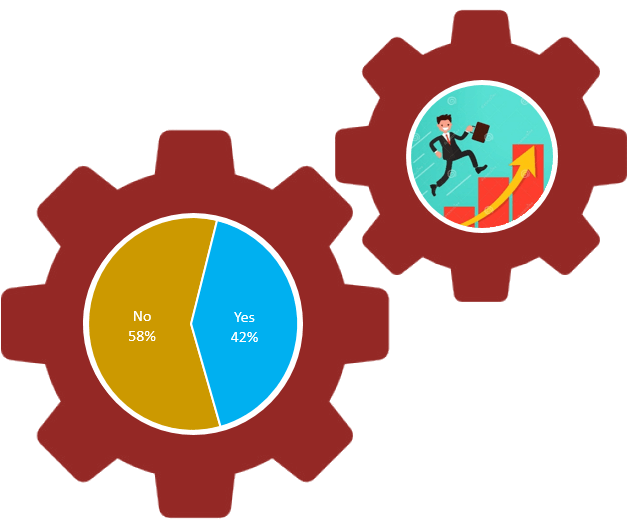 Survey shows 42% of respondent have move from one department to another in their career which have given a boost to their career. It doesn't mean that remaining 58% didn't get chance to change, but there is high probability that many of them didn't want to change. This data should also be a learning for freshers that they should not worry about initial offer and area of interest. They might create new career avenues and create new interest during the career path.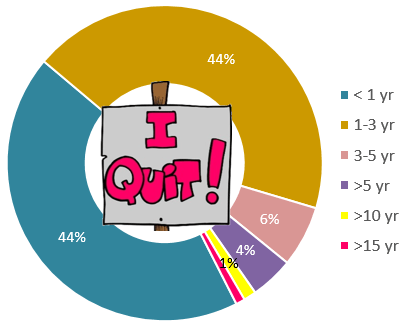 Time spent by food professionals in their first job
Another interesting data which came out from this survey is that about 87% professionals changed their first job in less than 3 years. This means that you should not worry if you are not getting job of your choice. It's not a trap, you will only rise from there.
Key take away:
In this fierce competitive world "fresher should not be chooser". Grab any opportunity which comes in your path.

foodtechpathshala
---
Dilemma No 3: Do female professionals have opportunity in food industry?
Many female professionals have asked me this question and most of them seems frustrated. For them this survey is really a good motivation. About 33% (188) of the respondents) are female and progressing in food industry. Out of these 188 female respondents, 148 are with less than 5 years of experience. This data is also encouraging because it shows that story about success stories of female professionals is not old. Food industry is full of young and dynamic female food technologists. Once again I would like to emphasize, whether it is male or female, rule is same – you need to be open to explore career opportunity beyond your comfort zone.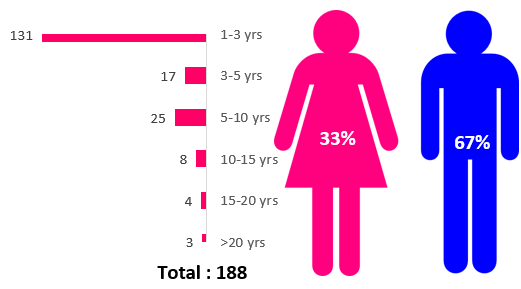 ---
Conclusion
Food technology as a career still has same shining as it is claimed, specially when we compare it with other similar professional courses. Each food professional doesn't go through same career path as food technology itself is a wide and diversified field. One should not make conclusion base on one or two observations rather look into the picture holistically. To shine as food professional, one has to be open to take up the challenges – challenges of steep competition, challenges of being agile to take diversified job profiles, and challenges of searching first job.
---
Acknowledgement
Sincere gratitude to all Food Professionals who spared their time and shared their experiences. Thanks to all budding professionals for showing faith on me which keeps me motivated.