Upcycled food products are new trend and a commitment towards sustainability. They are made by turning waste into valuable products.
Upcycling is the process of converting ingredients, that would have been wasted, into edible food products, which helps not only in prolonging the life of discarded food but also in reducing the amount of food waste.
Upcycled food, which was once a side market and mostly residing in health food stores, is becoming mainstream, ranking among the Whole Foods top 10 food trends of 2021.
From leftover coffee berry turned into flour and vegetable stems converted into chips, upcycled food tastes exactly like food.
Many upcycling food- companies are making sound in the market which are positively changing the complexion of our eating habits. For mainstream retailers such as Kroger, it has also become a priority.
---
What difference does the upcycled food make?
According to the UN's Food and Agricultural Organization, 1.3 billion tons of food is wasted or lost every year and at the same time the human population is increasing relentlessly, which requires more food and more land for agricultural purposes.
Agricultural expansion could result in severe habitat loss as the land mass of the planet is limited and. For this reason, number of start-ups have started to upcycle discarded food material into new, nutritious ingredients and end products, by utilizing technology.
It is one of the most impactful and effective ways in which food industry and can help save environment from climate change.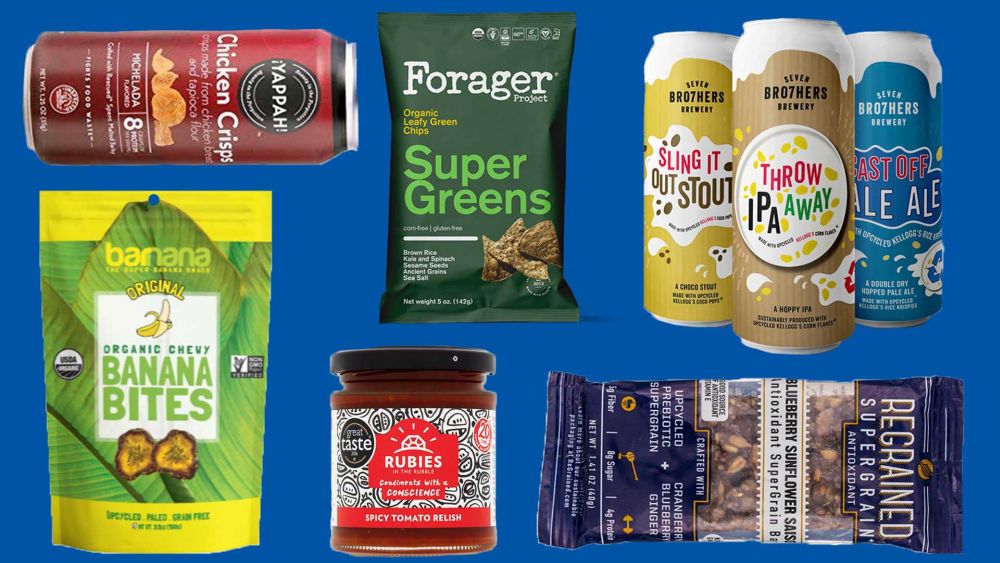 Upcycled food association
A non-profit association which consists of food brands and companies focused on helping prevent food waste through an upcycled economy.
It is a network of more than 100 mission driven businesses across three continents. It was established in 2019, and it is the first organization to convene academics and thought leaders to establish a universal definition of upcycling.
It is comprised of members and associate members from around the world. Through research, strategy, networking, and policy advocacy, Upcycled Food Association is building a food system in which all food is elevated to its highest and best use.
95% of people in the world want to reduce food waste and it is Upcycled food which puts the solution in their hands. Recently it also launched Upcycled Certification Program which allows brands and businesses to apply for third-party certification of ingredients and products.
---
Companies involved
Snack-Futures
Mondelēz International's innovation and venture hub. has its membership in the Upcycled Food Association. Snack-Futures was created in 2018 as a growth driver for Mondelēz International with an aim to supply well-being snacks all over the world.
It is deliberately designed to push boundaries in snacking by capitalizing on consumer trends and emerging growth opportunities in well-being snacks around the world. Planet-first innovation is a key pillar of its portfolio strategy, focusing on creating well-being snacks that are good for people, kind to the planet and deliciously fun.
The company has planned to have three varieties of Cacao Fruit Bites on sale this year, in more than 2,000 stores by the end of 2021 or early 2022. It also recently launched a start-up engagement program called Colab, for US-based early-stage well-being snack brands.
The program is designed to support, grow, and potentially invest in brands in the well-being space. The group's priorities support incremental growth against three key strategic areas: invent new brands and businesses, invest in early-stage entrepreneurs, and amplify the Snack Futures impact with the Colab start-up engagement program.
Dirt Kitchen Snacks
Snack ably delicious veggies made from real vegetables that come in both an Air-Dried Veggies + Nut's mix, as well as Air Dried Veggie Crisps.
One special thing about these snacks is that they are made from the produce that would normally become on-farm waste due to surplus, ripeness or bruising.
One such examples is prototyping vegetable chips made from the scraps of bell peppers, carrots and tomatoes.
Nestlé
Has announced the roll-out of chocolate made exclusively with the cocoa fruit, by introducing Incoa, a 70% dark chocolate bar under its Les Recettes de L'Atelier brand.
The cocoa fruit contains cocoa beans and cocoa pulp. The pulp, which is soft, sweet and white in color makes up around 10% of the fruit and surrounds the beans. Some of the pulp is used in the fermentation of the cocoa beans, but a large portion of it is usually wasted.
This product is made using cocoa fruit pulp, which is normally discarded, to flavor products, reduces sugar and cuts food waste while boosting the income of cocoa farmers.
ReGrained
Makes a flour called "SuperGrain+", which resembles toasted flour, from protein, fiber and micronutrients discarded after the grain is used for the beer brewing process and incorporates into tasty snack bars.
Moreover, its nutty flavor toothsome aroma, caramel hue and sustainable value proposition makes it a lovable upcycled food.
Matriark Foods
Upcycling of farm surplus and fresh-cut remnants into healthy, delicious, low sodium vegetable products, soup, and sauce bases for schools, hospitals, food banks, and other food services.
According to the company, it has saved over 135,000 kg of fruits and vegetables since its establishment in 2018.
Toast Ale
Approximately, 24 million slices of bread go waste every day in the United Kingdom.
With the aim to reduce bread waste, Toast Ale utilizes the donated surplus bread to replace one-third of the malted barley using in its beer brewing process
References:
https://www.bakeryandsnacks.com/Article/2019/07/15/Mondelez-uses-SnackFutures-to-test-its-own-upcycled-snack-concepts
https://www.globenewswire.com/news-release/2021/03/11/2191465/0/en/Mondel%C4%93z-International-SnackFutures-Joins-Upcycled-Food-Association.html
https://www.nestle.com/randd/news/allnews/nestle-roll-out-chocolate-100-percent-cocoa-fruit-incoa
---
You may be interested in
.