Rumour
Finally Coke and Pepsi has accepted that their product is not recommended for Children. See the highlighted statement

WhatsApp Message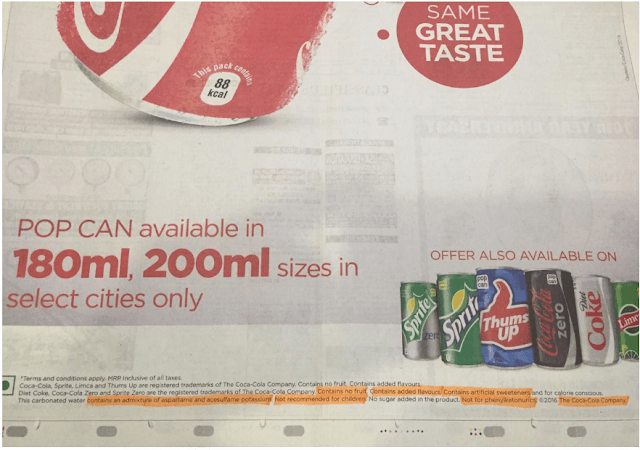 Truth
The highlighted statement is not for all Coke products. It is only for "Diet Coke, Coca-Cola Zero and Spite Zero. This is a Legal requirement (Under FSSAI) for any food product having artificial sweeteners to clearly label in their pack "not recommended for children"
Here are some examples of such labelling and you will notice same labelling, same wording which shows that these re legal requirement. This also it proves consumers are being well guarded by the strong legal structure of India.

---
About Rumor ka Tumor
Nowadays social media has become a "pseudo-main stream media". Every citizen having access to the internet has become either a journalist OR news reader (spreading news). And this is a huge power each of us has got. So, we should also be little responsible while spreading news/msg because "rumours" spread like "tumours" and sometimes becomes incurable.
Being a responsible food technologist, I thought to start a blog series to suppress the spread of rumours related to the food industry / processed food and spread awareness.
---
**THIS ARTICLE SHOULD BE READ AS ONLY A COUNTER ARTICLE TO "RUMOUR" BEING SPREAD IN SOCIAL MEDIA. IT SHOULD NOT BE TAKEN AS AN ENDORSEMENT TO ANY BRAND / COMPANY / PRODUCT **