Rumour
Pesticide Percentage (%) in cold drinks released from IMA (Indian Medical Association) recently

WhatsApp messages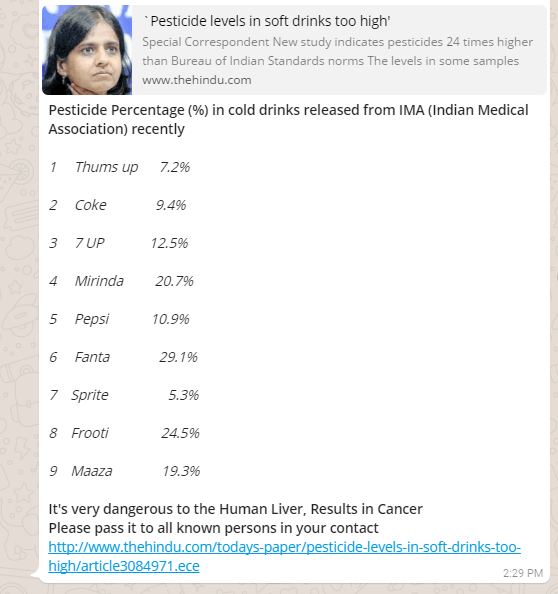 Truth
There are several errors in this message being floated in social media. The biggest surprise is that this message is being circulated in several technical groups by ignorant technocrats.

From the first look, it is evident that this data can not be true. Can we imagine a drink with 20-29% pesticide in it. Forget about health, will anyone be able to drink such beverage??
Generally, pesticides levels are expressed in ppm or ppb (parts per million OR parts per billion respectively)
1 ppm is equal to 1 mg in 1 kg whereas 1% means 1 mg in 1 g. So the data shown in msg is nothing but an imaginary and random number
Now coming to getting in detail of msg. This msg talks about the report by IMA (Indian Medical Association) whereas link shows a pic of Sunita Narain from (CSE India).
When we open the link, the news is of 2006 (when pesticide issue was a hot topic)·
Nowhere in the link news, these data are discussed. Rather they are talking about 11 ppb (1000 ppb = 1 ppm)
---
About Rumor ka Tumor
Nowadays social media has become a "pseudo-main stream media". Every citizen having access to the internet has become either a journalist OR news reader (spreading news). And this is a huge power each of us has got. So, we should also be little responsible while spreading news/msg because "rumours" spread like "tumours" and sometimes becomes incurable.Being a responsible food technologist, I thought to start a blog to suppress the spread of rumours related to the food industry / processed food and spread awareness.
---
**THIS ARTICLE SHOULD BE READ AS ONLY A COUNTER ARTICLE TO "RUMOUR" BEING SPREAD IN SOCIAL MEDIA. IT SHOULD NOT BE TAKEN AS AN ENDORSEMENT TO ANY BRAND / COMPANY / PRODUCT.