Rumour
Shocking!! every food company is cheating us by name different coded ingredients name

WhatsApp Message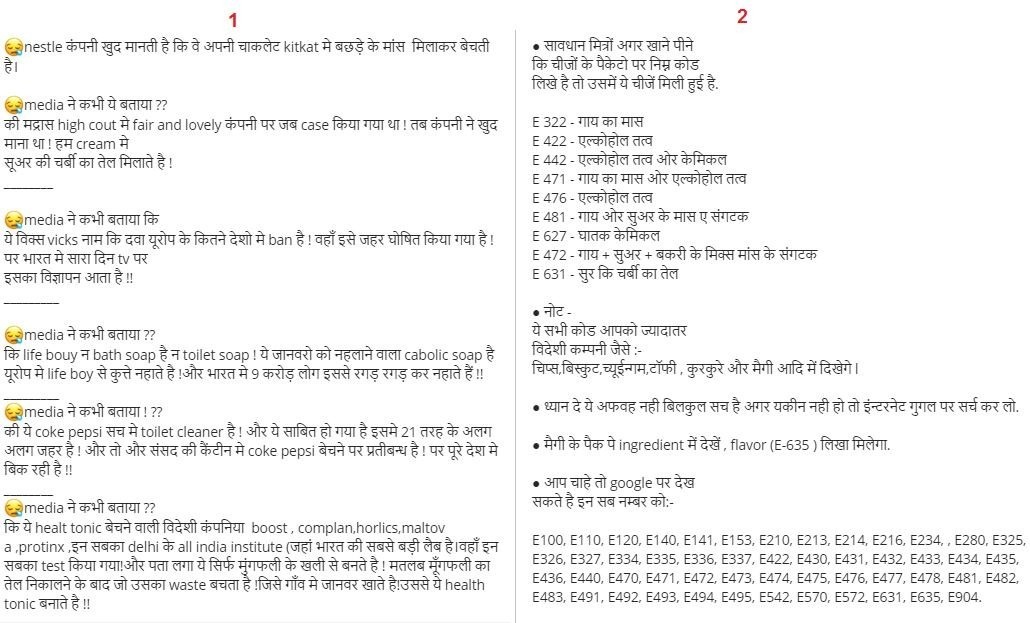 Truth
Truth
I have divided entire message (being floated in social media) into two parts
Fictional story: I will not comment on the fictional story because imagination has no end, it is beyond science and logic 🙂
Falsifying the data or misrepresentation of data: I would like to talk about this part because here the author of this fictional story has given reference to some of the commonly used terms and also given reference to the internet. Here it will be easy for me to bring facts to the counter the imagination.
First of all, let me explain what are 'E numbers' present in the ingredient list of food products. Quoting Wikipedia
E numbers are codes for substances that are permitted to be used as food additives for use within the European Union and Switzerland. The "E" stands for "Europe". Commonly found on food labels, their safety assessment and approval are the responsibility of the European Food Safety Authority.
However, these 'E Numbers' are accepted in many other countries (outside EU). India is one of them. The basic objective is to have a common name for the ingredients which can be easily identified globally irrespective of what they are called in their local language. Can you remember all greek and latin scientific names of plants and animals??
Each E number represents certain ingredient. For easy identification, a certain range of numbers is for certain class of additives. for eg. 100–199 represents colours and 200–299 represents preservatives.
Now coming to the E numbers mention in rumor. Here the author has failed to showcase his/her imagination and circled around 3 names in defining E numbers. But here is the fact of these numbers

It is really painful to see such unscientific msgs being circulated in technical groups. In this world of internet where access to information is not difficult, people from the scientific community don't take the pain to verify the facts before circulating. When they are countered, they say "I have just forwarded". But, they fail to understand that, when they forward or like any message, it is understood that they also believe in these messages.
---
About Rumor ka Tumor
Nowadays social media has become a "pseudo-main stream media". Every citizen having access to the internet has become either a journalist OR news reader (spreading news). And this is a huge power each of us has got. So, we should also be little responsible while spreading a news/msg because "rumours" spread like "tumours" and sometimes becomes incurable.
Being a responsible food technologist, I thought to start a blog to suppress the spread of rumors related to food industry / processed food and spread awareness.
---
**DISCLAIMER**
THIS ARTICLE SHOULD BE READ AS ONLY A COUNTER ARTICLE TO "RUMOR" BEING SPREAD IN SOCIAL MEDIA. IT SHOULD NOT BE TAKEN AS AN ENDORSEMENT TO ANY BRAND / COMPANY / PRODUCT.